Reading Time:
5
minutes
This coverage is by Health Policy Watch. 
Although it was governments that made the big commitments to tackle climate change in the 2015 Paris Agreement, mayors are leading the charge in reducing air pollution on the ground.
At a first-ever World Air Quality Conference, hosted by the City of London, mayors and city leaders from around the world convened Wednesday, to confer with each other and with experts from the World Health Organization and civil society about how to ramp up action on air pollution and climate change.
"When people ask me, 'Why is WHO so engaged in this?' I say, 'I don't just have one reason, I have 7 million good reasons," said Maria Neira, director of WHO's Department of Public Health, Environmental, and Social Determinants of Health, referring to the 7 million premature deaths attributable to air pollution every year.
That number has not so far triggered the kind of urgent action from governments that WHO would have hoped to see, Neira said, "But there is hope. We see opportunities like this one where many people – policymakers, people with responsibility at the city level – they are called to this field and saying, 'this is a public health emergency.'"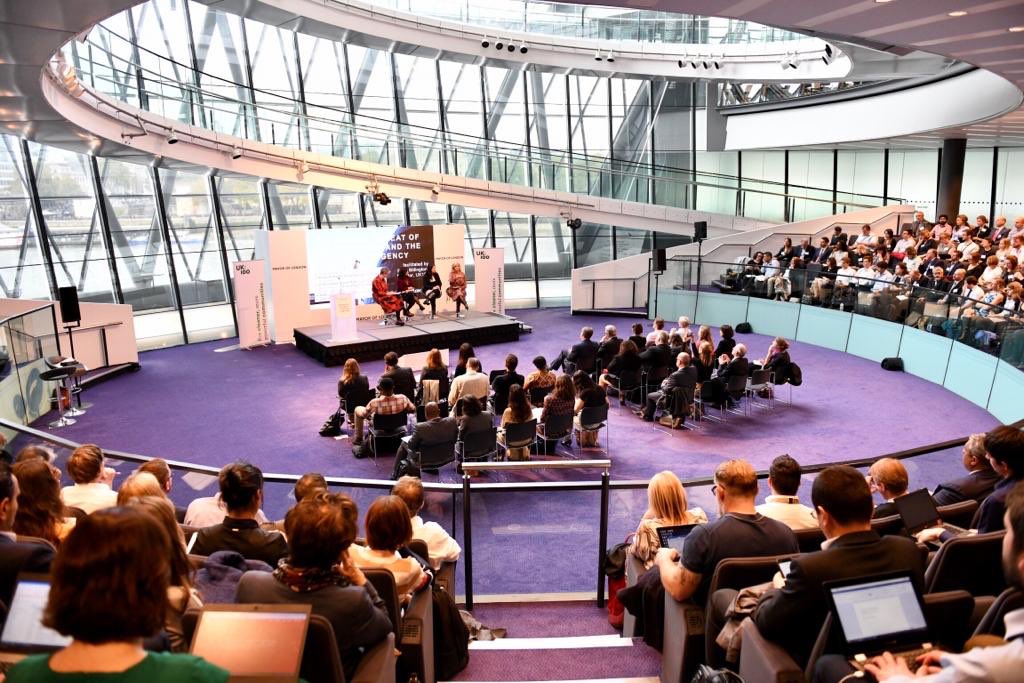 As just one example of global action, mayors of the C40 network – a group of 94 megacities around the world representing over 700 million people and a quarter of the global economy – signed the "Clean Air Cities Declaration" just last month at the C40 Mayors Summit in Copenhagen.
The Declaration committed the 35 founding cities of the network to take "bold action to reduce pollution by 2025, and work towards meeting the WHO's Air Quality Guidelines," said Los Angeles Mayor Eric Garcetti, Summit chairman.
The WHO Guideline level for concentrations of PM2.5 – fine particles considered to be among the most health harmful due to their ability to penetrate the lungs and circulate in the bloodstream – is 10 micrograms/cubic meter of air.  However, outside of North America, many or most large cities worldwide exceed those levels. And the problems are particularly acute in emerging economies and developing regions where emissions of diesel and other fuels are higher in particulate content.
Along with high-level policy commitments, cities have begun to implement climate actions on the ground. London was the first megacity to sign onto the WHO/UN Environment/World Bank Breathe Life Campaign, committing to reach WHO's Air Quality Guideline levels. The campaign now includes 70 cities, regions, and countries. The city has successfully implemented an "ultra-low" emissions zone in central London, historically the most polluted part of the city, which has contributed to slashing emissions in that area by over 1/3rd in under two years.
"I'm proud of what we've accomplished… but we're not resting on our laurels. We still need to do much more. Many parts of London are still plagued by dangerously polluted air, as are parts of many other global cities. We know we can't solve the problem alone," said Shirley Rodrigues, deputy mayor of Environment and Energy for the City of London.
Although cities can take the leadership in such strategies, in other areas they are limited in their regulatory powers, and thus more action from national governments is still required to mitigate all the health effects of air pollution.
Christiana Figueres, former executive-secretary of the UN Framework Convention on Climate Change (UNFCCC), reminded the conference of the global commitments made by country governments in the 2015 Paris Agreement.
"Your choices will either put us on track for a more polluted future, or a future where we scrub it out of our lives for good," said Figueres, currently Vice-Chair of the Global Covenant of Mayors for Climate and Energy.
Transportation Sector Emissions Targeted
WHO estimates that road transport is responsible for up to 30% of particulate emissions (PM) in European cities, and up to 50% of PM emissions in all OECD countries.  This is partly due to the high proportion of diesel passenger vehicles that circulate in developed economies outside of North America – where strict clean air legislation and other historical factors limited diesel vehicle use.
In response, more and more cities in Europe and elsewhere have now created low- or ultra-low emissions vehicle zones to keep older diesel vehicles out of the center city. Other tactics include the creation of pedestrian zones, as well as higher parking prices or commuter tolls on vehicles coming into the downtown area.
"Cities have enormous power in how they control transport and other activities," said Andrea Fernandez, director of Governance and Global Partnerships, C40 Cities.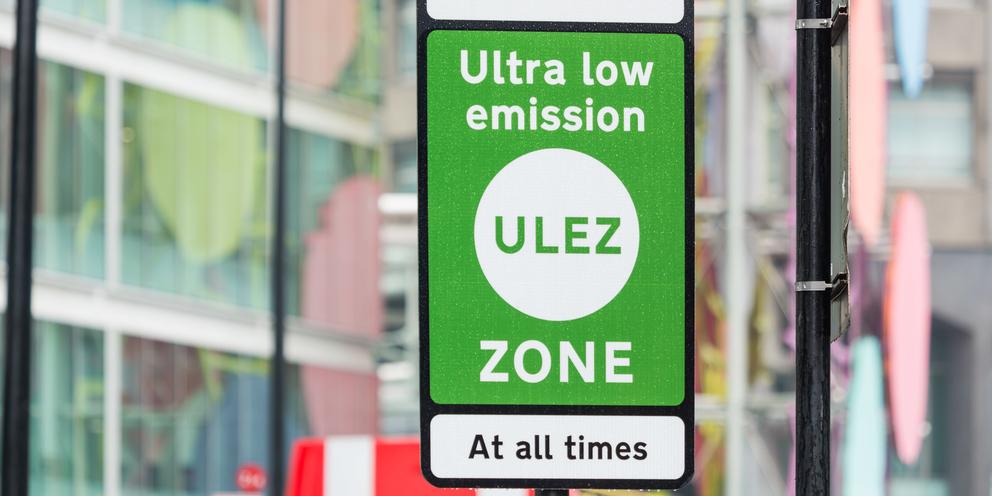 Along with London's new "ultra-low" emissions zone, the city is shifting its public transport fleet to zero-emissions taxis and buses.
Thanks to these policies, average air pollution concentrations in the area have declined by 29%, while emissions in the "ultra-low" emissions zone have been reduced even more, according to a new report by the Mayor's office.
London, along with the rest of the leading C40 cities that signed the Clean Air Cities Declaration, has pledged to only procure zero-emissions buses from 2025 and take other measures to ensure "major areas" of each city are zero-emissions by 2030.
City-to-city collaborations have also spurred some healthy competition, Neira observed. She noted that London, Santiago, and even Moscow seemed to be "competing" informally to see which city can roll out the most electric buses, outside of China.
Speaking directly to the mayors in the room, Neira said, "You are a kind of health minister. Most of the decisions you can take relating to sustainable transport will have a positive or negative impact on people's health."
Power of Cities is Still Limited
Still, most cities lack the regulatory power to control pollution emissions from many sources, including power plants and industries, which are generally governed by national regulations. Similarly, standards for fuel quality and tailpipe emission limits are usually fixed on a national scale, and those determine overall levels of vehicle efficiencies as well as the amount of polluting sulfur in diesel fuel.
National energy and air pollution standards also affect emissions from the use and burning of fuels such as wood, kerosene and coal in residential and commercial buildings, which can be highly polluting as compared to natural gas, LPG, solar or wind, which have few or no particulate emissions.
"London can reach the WHO air quality goals by 2030, but we can't reach them without the power of the [national] government…it's important we get the power to bear down on the other issues. We need government to devolve the powers down to the implementation level," said Rodrigues.
Earlier this month, London's Mayor Sadiq Khan was among the C40 Mayors to endorse a "a Global Green New Deal" targeting "transportation, buildings, industry, and waste" to keep global temperature rise below 1.5 degrees Celsius. The message was issued by city leaders attending the C40 World Mayors Summit in Copenhagen on 10 October.
In supporting the Global Green New Deal, the mayors of Paris, Copenhagen, Rio de Janeiro, Sydney, London and Tokyo, among others, challenged national leaders, CEO's and investors to match the level of ambition detailed in the Global Green New Deal.
"World leaders met in New York just last month and once again failed to agree anything close to the level of action necessary to stop the climate crisis. Their ineptitude directly threatens all people around the globe as time keeps running against us," a press release quoted C40 Chair and Mayor of Paris, Anne Hidalgo, as saying, referring to the UN Climate Summit on 23 September.
But health can be used to accelerate climate action. "Climate can feel a long way away, whereas public health is really immediate," noted Polly Billington, director of UK100, a network of local government leaders across the United Kingdom dedicated to climate action.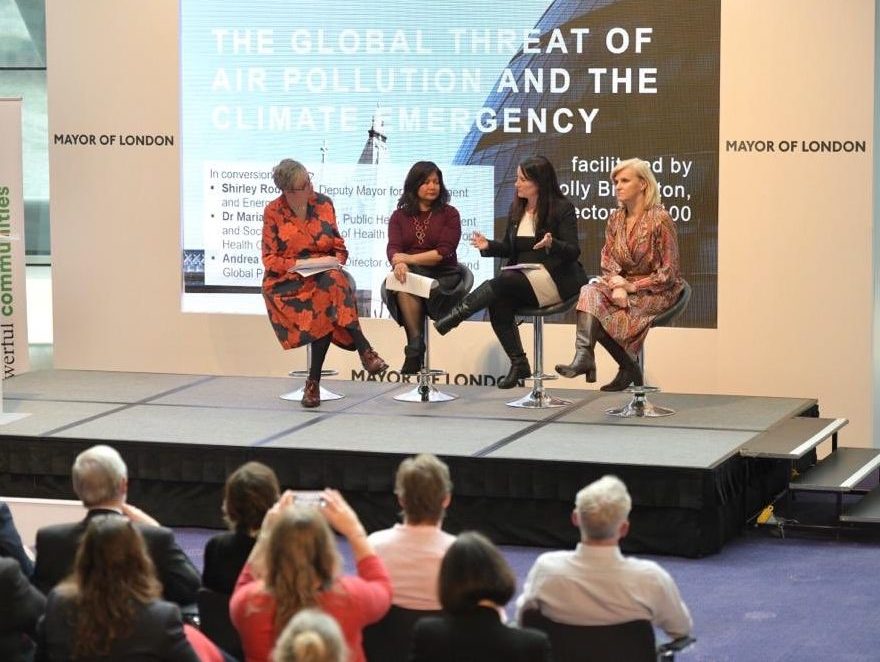 The WHO Director of the Department of Public Health, Environmental and Social Determinants of Health agreed, saying "If you put health up front, you will have the perfect argument to motivate people, you will have the coherence that is needed on the policies, you will have a perfect way to incorporate the economic arguments for climate action, for example, for reducing coal subsidies."
Still, the link between climate and health is just beginning to be recognized on the global policy level, said Neira, noting that a report on air pollution and health was presented for the first time only last year at the COP24 conference, the major gathering of UN member states on climate action.
That is precisely why next year's COP26 Conference should be themed around "health," said Neira.
"We need to incorporate the health angle because that will prove that any investment needed to take climate action, the [positive] trade-off is already there."
---